I am a Superhero!
April 18th, 2011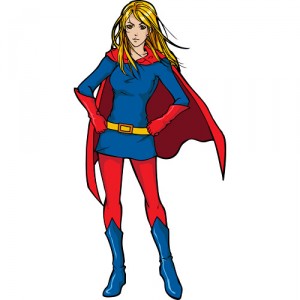 After coping with pain for many years, it becomes a way of life. I'm truly not being negative. I'm just stating a fact. If you live with chronic pain, you understand what I'm talking about completely. You learn to give yourself more time, to plan ahead, to always expect things could change at the last minute, to never put too much weight on your plans, and above all to give yourself a lot of slack. You have to learn to not be too hard on yourself. Ultimately, a person with chronic pain wants more than anything to be normal or to appear as normal as possible. I know that I will never be normal again, and I accept it; but I can still dream…right?
I cope with my pain better than a lot of others I know, and I cope much better than I did when the pain first began. There is a learning curve. One of the most important things to know about coping with chronic pain that I have learned is that I can't blame myself for what seems to follow when the pain days are bad, or worse than usual. There is no reason to put more stress upon myself by putting blame upon me for something that I didn't cause. Now there are times when I overdo it, and I definitely can point the finger at myself for the increased pain that will cause. But overall, with chronic pain, it is going to be there every day, and it will increase and decrease from day to day at no fault of my own.
I am the type of person who has always been extremely hard on me in order to challenge myself and accomplish goals in my life. Yes, I think that is important most of the time, but not when it comes to chronic pain. I have learned that chronic pain is almost like a characteristic that makes me who I am, that can't really be changed because it is a part of me. For instance, I am short—5 feet 1 ¾ inches tall. I cannot make myself taller than that. I can wear heels (although I don't really suggest I do that with the pain that I experience in my feet, ankles, knees , hips and lower back), but when I take my pumps off, I will always be 5 feet 1 ¾ inches tall. If I wanted to be shorter, well first of all, I would have to ask "why?" Secondly, unless I am sitting down in a chair, I will always be the same height without heels. So, with pain, I will always have it. I can better cope with it by taking pain medications, practicing relaxation techniques, exercising, resting throughout the day, proper stretching, proper shoes, etc. But the pain will always be there, and it will never completely disappear. I will have bad pain days, and I will have better pain days, but I will never have pain free days. I accept it. It is a part of my life.
I can't really say you get used to it, but I have gotten stronger as a person because of the pain. Not necessarily physically, but mentally, psychologically, emotionally, and spiritually I am a superhero. That is how strong I am! Because of the ability to cope so well with day to day chronic pain, and not allowing it to run my life, I am able to use the coping skills that I developed to help me cope in other ways in my life. It is amazing how much more life I have now that I have transferred my pain coping skills into the rest of my life…Ok, so you want examples? Well, I can give you one HUGE example that has been the biggest change in my life, which hasn't had a HUGE effect on my pain though because I have such great coping skills.
This past December, my husband and I adopted a baby boy. He is our first child. We have been married for nearly 11 years now, have tried the adoption route for 6 years, and finally we were blessed with a beautiful, healthy baby boy. We had to fly to another state to pick him up, and we got there 6 days before he was born (he was overdue). We were able to pick him up and take him with us from the hospital when he was just 4 days old. So we were staying in a hotel. It was a nice hotel for extended stays. Luckily, from the very first night with us, he slept through the night 5 to 6 hours at a time (now 8 hours at a time at 2 ½ months old). At this point, my body was faced with probably one of the biggest stresses possible—feedings every 2 hours, diaper changes, carrying the baby constantly, bouncing the baby, holding the bottle for 30 minutes at a time in the same position, burping the baby, giving the baby a bath, putting on a diaper, etc., etc., etc. All of these things I was able to do, I just have to do them in a different way than other mommies do them. It also may take me a little bit longer. I have learned to love the slings to carry him close to me. I have also learned to love pillows to lay him on when I feed him and prop him up, and to prop my own arms up. I have learned easier ways to make up his bottles and to change his diapers and even to give him a bath. I may do things a little differently, but I get everything done and have a very happy and healthy baby boy who is thriving!
I have learned that just as I must be patient with my own body because of the pain, I must be just as patient with my baby boy who will cry a lot. I may not always know what he needs, or it may take a while to figure it out, so I must use that patience that I know so well with my own body. I have learned to take care of the tasks that have to get done and put the others off until I am able to do them. Those tasks will keep. Anything that the baby needs is priority—making bottles, changing diapers, soothing his tears, playing with him, bathing him, etc. Dusting, vacuuming, and cleaning the kitchen and bath are among the tasks that are at the very bottom of the list. Taking care of me is very important though too. I can't put me off because if I flare, who will be there for the baby? That is constantly running through my mind. I do my best to make sure I get the rest I need, to eat healthy, to take my meds, to exercise when I can, etc. I have found that by taking care of myself, by making sure that the baby is taken care of, and by putting off the less important tasks, and letting some of my chores keep until I can get to them has kept me from flaring these past 2 ½ months. I have not flared once since we brought the baby to the hotel out of town.
I will tell you that we had some major unexpected events occur during the adoption process. The birth family found out that I had a joint disease and wanted to back out of the adoption agreement with us. I was devastated! For the first time in a long time, I allowed my chronic pain conditions to define me! That was so unlike me! I stood back, took a good hard look at my life and why we were adopting, and realized that this was what we had always wanted—to raise a family. It was a promise we made to each other before God in our vows. We were going to make this happen! My rheumatologist spoke to the birth family about how I was coping so well and was very capable of raising a child. He had no doubts. The family decided to go with their previous decision and place the baby with us! We were excited and nervous all at once, but we felt we were ready at this point in our lives.
Then while out of town, staying in the hotel, we had some problems with the paperwork and fingerprinting, so we had to stay much longer than anticipated. We ended up being out of town from December 9th through the first week of January. We had the baby in a hotel room with us from the 18th of December until we left in January! We had to do our fingerprints in that state, and I had to redo mine 3 times while I was there because they have a hard time rolling my fingers with the ink because of the arthritis in them. So that was more stress. I was unable to exercise at the gym there, so I was unable to release the stress that way, which really helps me to cope better. Our luggage got lost at the airport! The window in our hotel room wouldn't close, and it was winter—snow and freezing temperatures! We asked for another room, and the desk worker said that was the last available room we were in. She said to use all of our weight and push down on the window. Well, actually, that did work!
So with all the stress of a new baby, I'm making it because of my fabulous coping skills with having chronic pain. I also have to say that I have never been happier. It was worth the wait. I love him with all my heart! In a way, I can thank my chronic pain for helping me to be a better mom. If it weren't for my chronic pain, my coping skills wouldn't be this perfected. I wouldn't be able to handle the daily stresses of motherhood and the unexpected stresses that life throws at you as well. So, thank you, chronic pain!